Bringing maximum results to our guests is #1 task at Spa ViolaSole, that's why we are committed to only using equipment from trusted and reputable brands, that passed all safety standards and have extensive proven research behind their technologies.


HYDRAFACIAL- this non-invasive, customized treatment works by combining benefits of multi-level exfoliation, using newest generation of microdermabrasion - Hydra-dermabrasion, with simultaneous infusion of nutrient-rich and skin repairing solutions. Rated above IPL for results, it addresses clogged pores, skin texture, hyper-pigmentation, fine lines and dehydration, and provides immediate and long term results without pain or downtime.
www.hydrafacial.com/the-treatment

Diamond microdermabrasion - variation of Hydra-dermabrasion that uses more aggressive Diamond tip to resurface rougher skin while keeping it hydrated, therefore making it superior to "old-school" crystal-based microdermabrasion.

LED LIGHT THERAPY - this technology, utilizing red, infra-red and blue light rejuvenates living tissue through the process of " photo-bio-stimulation" - converting light into cellular energy.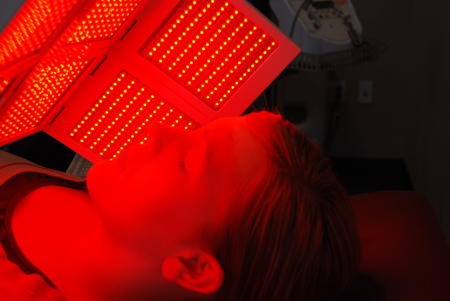 Red light increases amount of valuable ATP (energy "power-plant" of cells) and "turns on" fibroblast activity and other essential cell functions, therefore treating wrinkles and fine lines, pore size, redness and post-inflammatory scarring, skin laxity and pigment issues.
Infra-red light provides tissue healing, elimination of waste products and absorption of nutrients and great for scarring, pain management and a must pre-and post surgeries.
Blue light generates oxygen molecule and kills bacteria, making it powerful (and pain free) tool in fighting acne.
We are using combination of at least two light modules in every session for maximum benefits. Results are visible immediately, as well as cumulative and long term, with absolutely no downtime. Phenomenal choice for brides or before major events. Our lights are professional LED panels (not hand-held), that received 5 FDA clearances for effectiveness.
OXYGEN - increases cell's metabolic activity, leading to improved healing, increased hydration level and collagen production. Provides strong anti-bacterial effect. Skin is immediately dewy, fresh, hydrated and supple. Our equipment generates proper amount of pressure and flow and produces 95% pure hyperbaric oxygen.